Farming in the Forest
Ecology and Economy of Fire in Prehistoric Agriculture

3rd International Schöntal Conference, 11-15 July 2012, Kloster Schöntal, Germany
Location and accommodation:

The venue of the conference is the picturesquely situated Schöntal abbey (Baden-Württemberg), located in the triangle Stuttgart-Würzburg-Mannheim, accessible by plane (Frankfurt/Main, Stuttgart) and train transfer. Local shuttle service to nearby train stations will be provided. During the conference an excursion to the experimental fields near Forchtenberg (10 km distance from Schöntal) will be organised.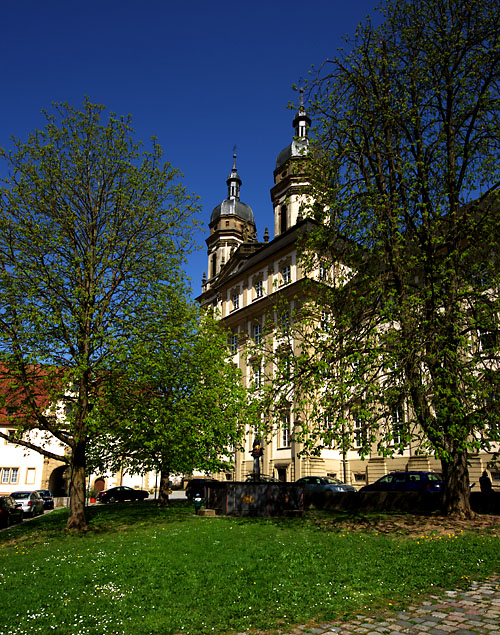 Driving directions:

By plane and train:
Frankfurt airport: Train to Würzburg.There take the local train towards Stuttgart to Möckmühl. There take the bus to Schöntal or we provide a shuttle service.
Stuttgart airport: local train towards Würzburg to Möckmühl. Than bus or shuttle service to Schöntal.
By car: see map

Accommodation will be provided at Kloster Schöntal, full board residential includes breakfast, first coffee break, lunch, second coffee break, evening meal and accommodation.

In Schöntal there is no shop except a café and a souvenir-shop, so self-supply is difficult. We would recommend to book the full board residential at Kloster Schöntal. Notice that there are no other costs except your travel expenses and the registration fee (50 euro).

The registration fee includes:
- Access to the meeting sessions (inkl. workshop) and exhibitions
- congress documentation and abstracts (print and digital)
- excursion to the experimental site with demonstrations of methods and results, outdoor lunch and barbecue in the evening
- guided tour through Schöntal abbey
- shuttle service from and to nearby train stations (Möckmühl, Krautheim etc.) if required
- childcare if required

Guests from nearby can book only the day programme and meals (without accommodation) or only single days (please ask for prices).

For accompanying persons/family: we can also book the accommodation (please ask). Around Kloster Schöntal there are ample gardens, a children`s playground and an access to the river Jagst with swimming area and lawn. There are also many hiking trails.

For guests with a low budget we can provide financial assistance.

Your accommodation can be booked for you by the organisers, please specify your required type of room and duration of stay.

Complete costs for participation and accommodation:
Only symposium or symposium and workshop (3 nights):
DR: 50 euro + 185 euro = 235 euro
SR: 50 euro + 215 euro = 265 euro
Additional night (because of travel scheduling or Nördlinger Ries excursion):
DR: 50 euro + 236 euro = 286 euro (+ 15 euro for the excursion)
SR: 50 euro + 276 euro = 325 euro (+ 15 euro for the excursion)

Please remit the registration fee (50 euro) until March, 31, 2012. For later registrations the fee will be 80 euro. The accommodation can be paid directly during the meeting. If you want to pay the accommodation in advance you can remit it to the same account and we will pass it on to the Kloster Schöntal. Guests from outside the EU who have difficulties or high costs for bank transfers to Germany are allowed to pay the reduced registration fee of 50 euro at the beginning of the meeting, but please send your abstract or an acceptance mail until March, 31, 2012, in order that we know you will come.